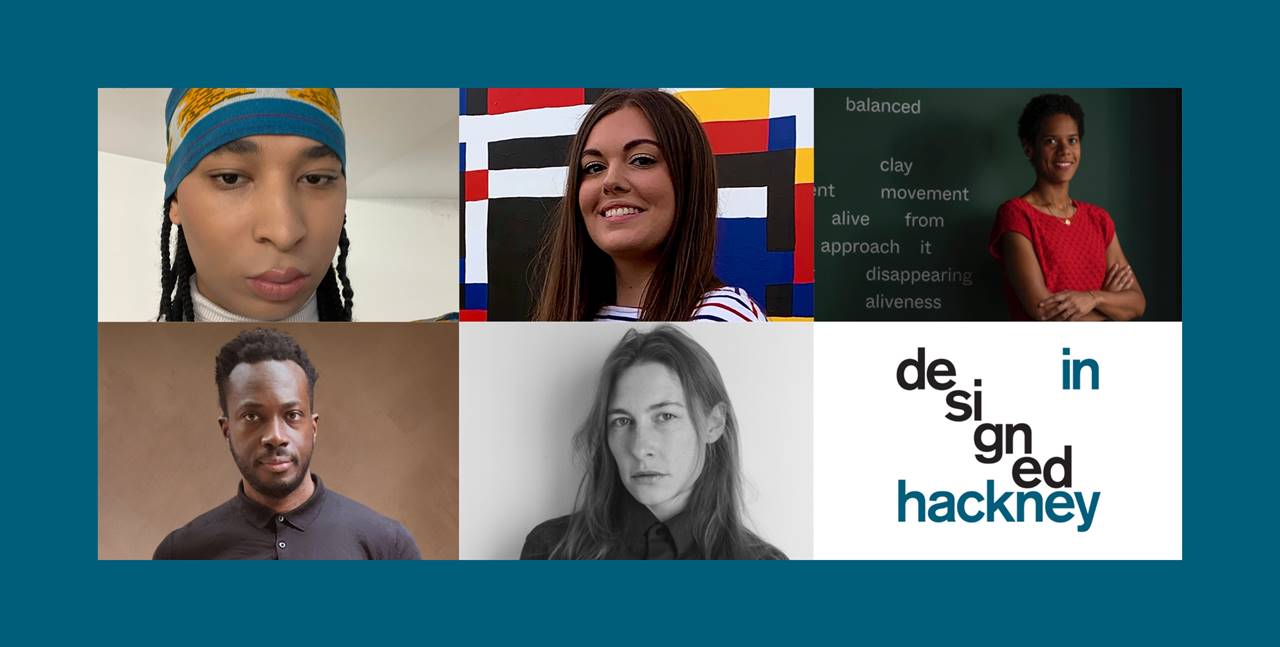 You are here:
dezeen: designed in hackney
dezeen: designed in hackney at one hundred shoreditch
26 November - 4 December
We've teamed up with our friends at Dezeen to launch Designed in Hackney, an exhibition of work by five emerging design talents from Hackney. Each has been nominated by one of the East London boroughs' most significant designers.  
Amechi Mandi (nominated by Lee Broom)
Bisila Noha (nominated by Pearson Lloyd)
Coco Lom (nominated by Camille Walala)
Danielle Brathwaite-Shirely (nominated by Nelly Ben Hayoun)
Marie Lueder (nominated by Roksanda Ilincic)
Curated by Dezeen, the exhibition will follow on from an initiative that the online architecture, interiors and design magazine launched 10 years ago to celebrate the incredible diversity of creative talent in Hackney for the London 2012 Olympic Games.
A decade on, Hackney is now home to a whole new generation of creatives, so Dezeen has asked five high-profile designers based in the borough to each select a rising star. The resulting exhibition – which spans fashion, product design, sculpture, art and animation will take place in The Workshop at One Hundred Shoreditch from 26 November to 4 December 2022.
The partnership between One Hundred Shoreditch and Dezeen: Designed in Hackney reaffirms One Hundred Shoreditch's commitment to supporting local designers.
The five talents are:
Amechi Mandi
Amechi Mandi is a London-based furniture/product designer of Cameroonian and Nigerian heritage. His current work focuses on traditional African textiles, taking inspiration from his mixed cultural background. This year saw the launch of his collaboration with Dado Atelier on a series of statement wallpaper designs, as well as winning the House & Garden Rising Star Award for 2022.
Amechi is currently working on expanding the range of his colourful designs with throws, ceramics and mirrors. He is also working on a series of rug designs in collaboration with Floor Story, which will be launching next summer.

Bisila Noha
Bisila Noha is a Spanish London-based ceramic artist. With her work, she aims to challenge Western views on art and craft; to question what we understand as productive and worthy in capitalist societies, and to reflect upon the idea of home and oneness, pulling from personal experiences in different pottery communities.
Her work extends from wheel-thrown pieces, with the distinctive addition of marbled slip decoration, to creating eye-catching abstract landscapes along with sculptural pieces which mix techniques and materials connecting Bisila to her roots, the makers that precede her and our past.
With a background in Translation and International Relations, Bisila is a passionate feminist activist. She co-directs Lon-art Creative, an arts and activism organisation that offers a platform for everyone to create, collaborate and reflect upon social issues through the arts and is part of Design Can, a campaign to make the design industry more inclusive and diverse.

Coco Lom
Coco Lom is an artist and designer from Hackney specialising in abstract patterns. Her style mixes a bold bright colour palette, which has been translated into large-scale mural work around her home city of London. She's on a mission to open people's eyes to all the patterns, shapes and colours that lie in the world around us and help people celebrate the quiet details we might not normally notice.
Pink Lady Apples commissioned Coco to transform central London's first art basketball court, as well as create eight colourful 'Blissful Benches' for Covent Garden's Piazzas this spring and summer. Coco Lom's work has been featured by Sky Sports, Adobe, Creative Boom, Design Week and more. Clients include Covent Garden, Holland & Barrett, Pink Lady Apples and Shoreditch Studios.

Danielle Brathwaite-Shirley
Danielle Brathwaite-Shirley is a Berlin/London-based artist. They received a BA from the Slade School of Fine Art, London in 2019. Brathwaite-Shirley works predominantly in animation, sound, performance and video game development. Their practice focuses on intertwining lived experience with fiction to imaginatively retell the stories of Black Trans people. Danielle's work has been the subject of solo exhibitions and performances at institutions such as David Kordansky, Los Angeles; Project Arts Centre, Ireland; Skänes konstförening, Malmö, Sweden; Arebyte Gallery, London; QUAD, Derby, England; Albright-Knox Art Gallery, Buffalo; Tate Modern, London; Focal Point Gallery, London; Science Gallery, London; and MU Hybrid Art House, London.
Marie Lueder
Rooted in the spirit of past, present and future, ready-to-wear Fashion label LUEDER is developing gender and season-less fashion on the basis of reworking classic menswear staples. They are challenging the status quo by engineering the idea of internal and external (medieval) armour, providing an outlook to a positive future through immersive ritualistic presentations so that one may be able to restructure and regenerate.
Keep up to date with our latest news, offers and events