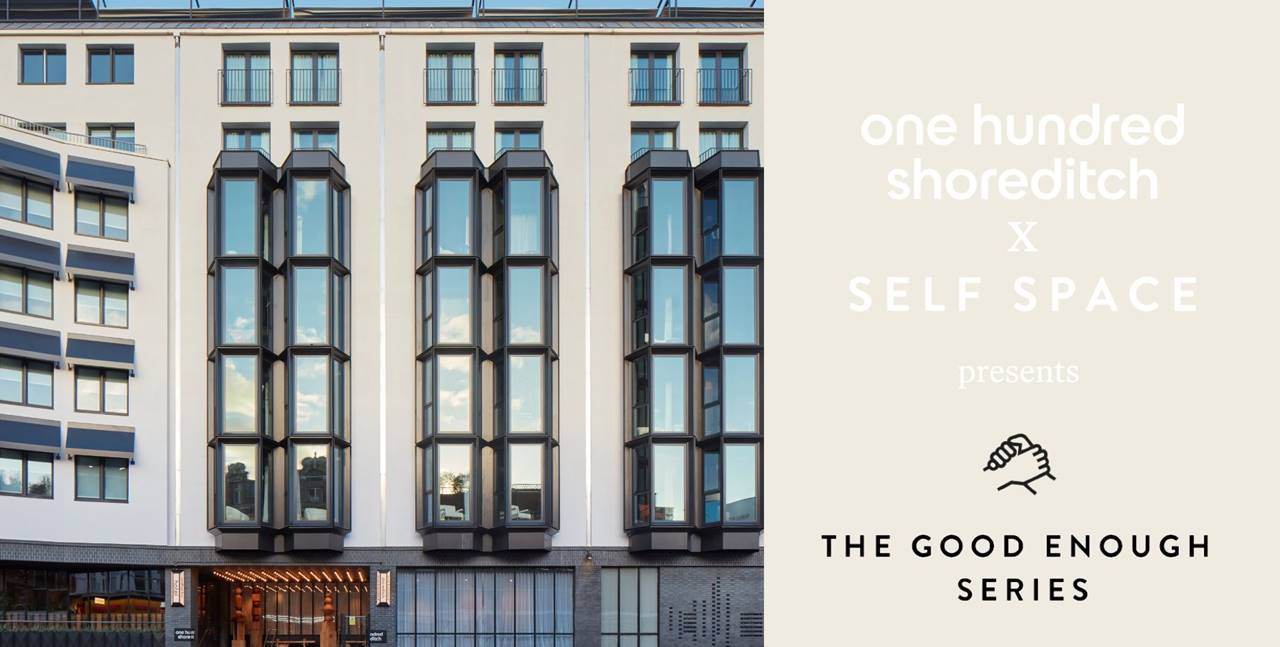 'The Good Enough Series' workshops in partnership with Self Space
Cultivating Confidence and Proper Self Care
One Hundred Shoreditch has teamed up with Self Space, the world's first on demand mental health service on the high street on 'The Good Enough Series' - a series of talks and workshops designed to help nurture confidence and self-belief. 
Feeling good enough is a full-time job for most of us. Constant or fleeting feelings of overwhelm, underwhelm, comparison, imposter syndrome, lack of body confidence, unhealthy relationships to food, to substances or to unhealthy people. These patterns can range from the paralysing to the anxiety causing, from one day to the next. 
Join Self Space this autumn in partnership with One Hundred Shoreditch, where we'll shake off those taboos and turn our backs on the invitation to overindulge. Instead we'll tune into understanding, experiences and connections, sustainable living, learning new tools to help foster feelings of 'being enough'.
The series launches on 25 September with 'Good Enough' is Enough, an evening unpicking all things body image and continues with two workshops - Cultivating Confidence on 24th October and Proper Self-Care on 20 November.
24 October: Cultivating Confidence Workshop - 7-8.30pm 
Where does the conviction that "I can do this if I try" come from? In 1977, psychologist Albert Bandura said that the most important determinant of self-efficacy is what he called mastery experiences. The main idea is simple: If you attempt hard things again and again, and eventually succeed, you come to believe in your capabilities. In contrast, if you fail repeatedly, you come to believe that you can't succeed, even if you try.
But how do we come to believe that we can tolerate the journey to believing in ourselves and feeling more confident?
In this 90-minute therapist facilitated workshop, explore how the anxiety about ourselves and our abilities can lead us to underestimate our potential. Self Space's therapeutic experts will offer space for participants to discover how to tolerate the unknown, invest in themselves meaningfully, and develop the confidence to put ourselves out there, even if it feels hard.
Come as you, no pressure.
Tickets are £20 per person. Book here.
20 November: Proper Self-Care Workshop - 7-8.30pm 
The idea of 'self-care' has been circulating on social media and in day-to-day conversation for the past few years, but so many of us struggle with it. We have a disinclination to be on our own side.  We know that daily exercise and drinking 2L of water is good for us, but we don't often do it.
For us, self-care is not just saying yes to the things that are good for us, but finding the discipline to say no to the things that don't serve us.
This 90-minute therapist facilitated workshop will help uncover some of the obstacles that we might be facing when it comes to really taking care of ourselves and meeting our needs.
There will be space for reflection and sharing, plus practical tips to make self-care more personable and achievable.
No pressure. Come as you are.
Tickets are £20 per person, Book here.
24 October & 20 November | 7pm-8.30pm